German reconnaissance 8-wheel heavy armored car
---
feature
Military-style medium-sized reconnaissance vehicle
Dedicated radar
Small capacity and localization
* Sorry, it's Google Translate *
Small military generator for scouts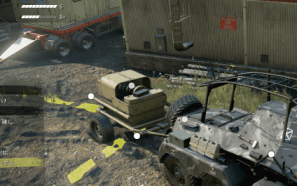 ---
Warning
This truck is very strong and can make the game boring
Wearing an armor plate eliminates visibility
If you don't like OP, try to avoid equipment with Z2.
Please note that it is different from the original function that is active in the game.
Do not use radar and radar or generator at the same time
Because some equipment uses existing equipment
You can't equip it without unlocking the parts.
Warning Experiment
Crane is experimental.
Physics simulation may not work
---
Note
Sd.Kfz.231
En.wikipedia.org
This vehicle is unique and popular among German unique armored vehicles.
Some people think that military fans approve of war, but they are wrong. No slanderous contact is required.