We have our own patreon.com/teammods support us - get exclusive mods before anyone else! Мы завели свой патреон patreon.com/teammods поддерживай нас - получай эксклюзивные моды раньше всех. А некоторые получишь в подарок!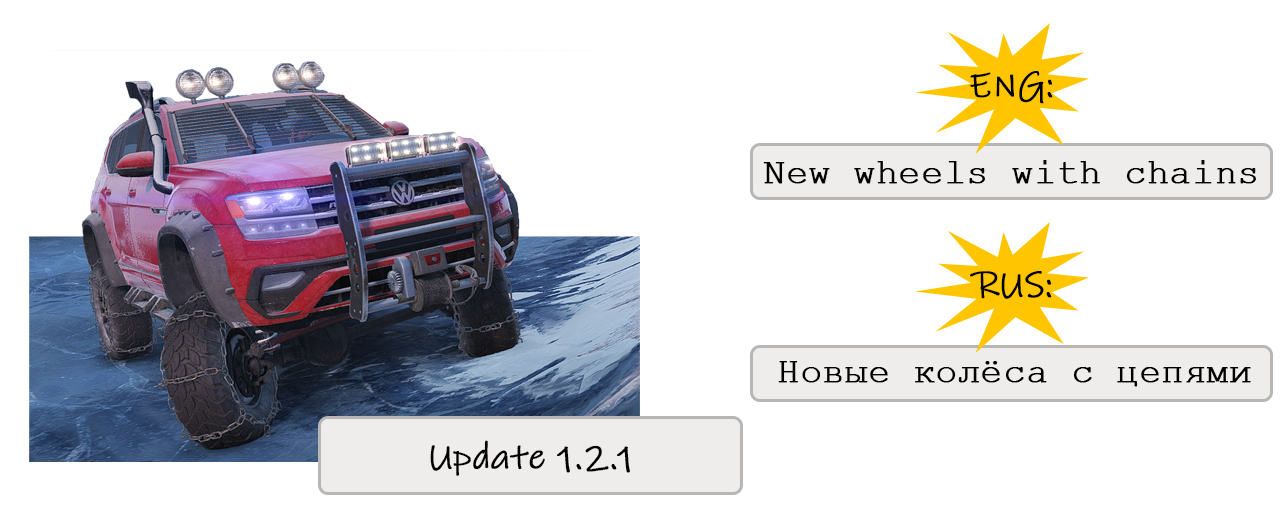 ENG:

The 2018 Atlas was developed at the Volkswagen operations center in North American Tennessee. The crossover is slightly larger than the Tuareg. The Atlas takes on extremely competitive rivals in the three-row mid-size segment, such as the Chevrolet Traverse.
For the reason that the original Volkswagen Atlas was developed exclusively for the American market, the car received a truly huge size (at the moment-this is the largest car of the concern).
length - 5037 / 5039 mm;
width -1979 / 1989 mm;
height - 1768 /1 771 mm.
the TFSI turbo engine capacity of 2.0 liters and a power output of 235 HP.;
atmospheric VR6 with a volume of 3.6 liters and capacity of 276 HP.;
turbo volume of 2.5 l and a power of 299 HP.
Multiple body modules
Many skins (paint)
5 types of wheels (optional)
HQ salon (added arrows, mirrors)
Standard trailers


Many thanks to masterkosta for setting up the car's physics.
Many thanks to Вуфич for the review and test
---
The mod is under development, please write your suggestions.
If you like what I do, please favor me with a thumbs-up and/or 🎁 donate to support my further developments.
RU:
2018 Атлас был разработан в операционном центре Volkswagen в североамериканском Теннесси. Кроссовер немного больше по размеру, чем Tuareg. Атлас берет на себя чрезвычайно конкурентных соперников в трехрядном сегменте среднего размера, таких как Chevrolet Traverse.
По той причине, что первоначально Volkswagen Atlas разрабатывался исключительно для Американского рынка, автомобиль получил поистине огромные размеры (на данный момент - это самый большой автомобиль концерна).
длина - 5037 / 5039мм;
ширина - 1979 / 1989мм;
высота - 1768 /1 771 мм.
турбомотор TFSI объемом 2.0 л. и мощностью 235 л. с.;
атмосферный VR6 объемом 3.6 л. и мощностью 276 л. с.;
турбомотор объемом 2.5 л. и мощностью 299 л. с.
Множество модулей кузова
Множество скинов (краска)
5 видов колёс (дополнительно)
HQ салон (добавлены стрелки, зеркала)
Стандартные прицепы


Огромное спасибо masterkosta за настройку физики автомобиля.
Огромное спасибо Вуфич за обзор и тест
---
Мод в стадии разработки,пишите свои пожелания.
Нравится то, что я делаю? Тогда поставь лайк и/или 🎁 пожертвуйте, чтобы поддержать мои дальнейшие разработки.

ОГРОМНОЕ СПАСИБО ЗА ОТЗЫВЫ. Мне очень приятно. Пишите в личные сообщения авто на которых вы ездите в реальной жизни. Выберу и создам в игре;)
THANK YOU SO MUCH FOR YOUR FEEDBACK. I'm very pleased. Write in private messages cars that you drive in real life. Select and create in the game;)