DISCLAIMER:
I create these mods mainly for myself and upload them here because some of you may find them useful, that's all.
Warning: This mod unlocks the Tayga Mudtires and all the CAT 745C wheels at rank 1 and changes the A16V-2000 engine and Special Gearbox for all trucks that uses them.
Manual installation only.
PC only.
English only.
---
About this mod and its purpose:
This mod converts the Pacific P12 to Pacific P12 OffRoad, I created it because I wanted a truck that can carry 2x medium logs efficiently, I did my best not to make it OP, some of you may find it balanced, some of you may find it OP.
Changelog:
v1.1.1:
forgot to unlock the wheels in v1.1 - v1.1.1 is just a quick fix
v1.1.0:
improved V16A-2000 torque from 260k to 300k (Power To Weight is now S)
modified Active suspension, now it's the same as Stock when disabled and higher than Raised when enabled
minor buff to steering responsiveness (from 0.2 to 0.3)
medium logs trailer is now offroad (improved suspension and added mudtires) - CHECK PICTURES
long logs trailer is now offroad (improved suspension and added mudtires) - CHECK PICTURES
v1.0.0:
moved the Pacific P12 from the "Heavy" category to "OffRoad" category
changed the name from "Pacific P12" to "Pacific P12 OffRoad"
added the engine A16V-2000 with 260k torque (the Westline 12V has 210k torque)
removed default gearboxes
added Balanced gearbox
added a modified Special gearbox with 6 auto gears, manual low gear ratio and a high gear (best one probably, depends on your personal preferences)
added Highrange gearbox
added Offroad gearbox
added more wheel sizes
added Tayga Mudtires + custom sizes
added CAT 745C wheels + custom sizes
added Raised suspension
added Active suspension
Suspension heights:
Stock : medium
Raised: high
Active: OFF - high / ON - very high
increased fuel consumption by approximately 50%
increased fuel capacity to 700L
---
How to install:
1. Go to game's installation folder, e.g.: ..\SnowRunner\en_us\preload\paks\client
2. Here you have "initial.pak", open it with Winrar
3. Simply drag & drop the contents of "Pacific_P12_Tweak.zip" over your "initial.pak" and hit OK
4. Done!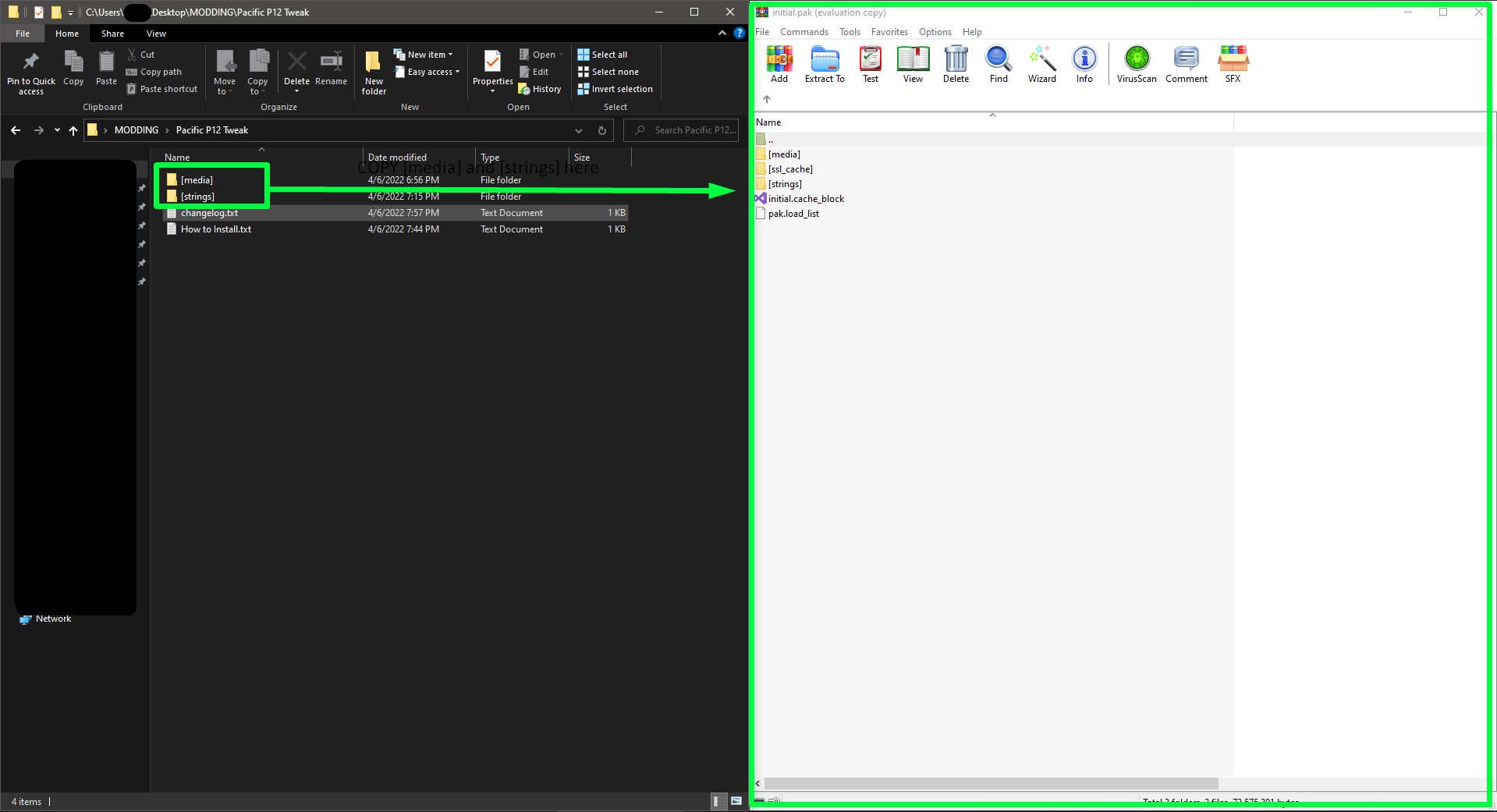 ---
How to create a simple backup:
I'm 99% sure my mod is bug free and a backup is not needed, however, back-up your "Initial.pak" by copying it in a different folder, you can create a folder named "backup" and copy it there, just to be sure.
To backup your save file as well, use the windows search and search for "completesave.cfg" & copy all the savegame.cfg save files to your backup folder, if you have multiple saves you'll find "savegame1.cfg", "savegame2.cfg" and so on.
I hope you like this mod and find it useful - have fun!

Compatible with all the DLC's to date (07 April 2022)