Manual Install ONLY!
It has been a Massive undertaking, editing and testing over 100 files.
Took me days and countless hours of figuring out and testing but the final results are satisfying.
It's also hard to capture on pictures, needs to be played to feel it out because there is a lot of changes big and small.
maxmike181 described it better then i even could, thanks man.

HUGE UPDATE 2.0 for phase two patch 10
Reworked completely from ground up to accomodate the recent changes in the game engine.
Mud physics improved. Denser and prettier. Gets the truck dirty more.
More dust and snow explosions etc.
Water physics only touched up a little since the newest game update has improved it considerably.
NEW!! Vegetation physics and Interactions! Now grass and bushes get deformed when driving through it
More leaves, flowers, twigs etc blowing in the wind after driving through it
Exhaust smoke lingers longer and is more realistic
NEW !! Reworked bloom, sky/game looks clearer more natural. Recommend disabling Light shafts in game menu
Removed the weird on screen effect you can see in certain conditions.
Update 2.6 for Phase 3 Wisconsin!

Particle effects + Sky bloom/clarity mods now work in Phase 3 :)

New mod part - Remove the Dirty lens effect!

Those Spots, blotches on the screen that attempt to simulate dirty camera or something, removed.

Installation is the same but into the boot.pak file (its right next to the initial.pak)




Installation Instructions:
Backup the initial.pak!
The mod has 3 parts : choose one or all !!
It can be combined with other inital.pak mods as long as it doesnt use the same files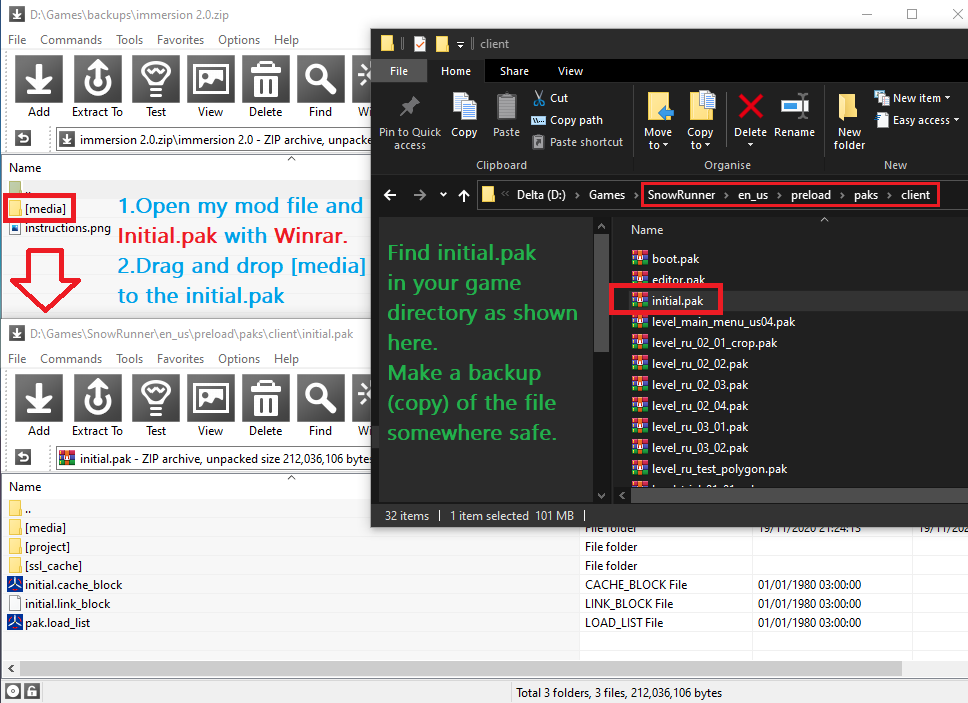 Happy trucking!