The UiName and UiDesc attributes are responsible for displaying the name and description of an item in the UI of the game: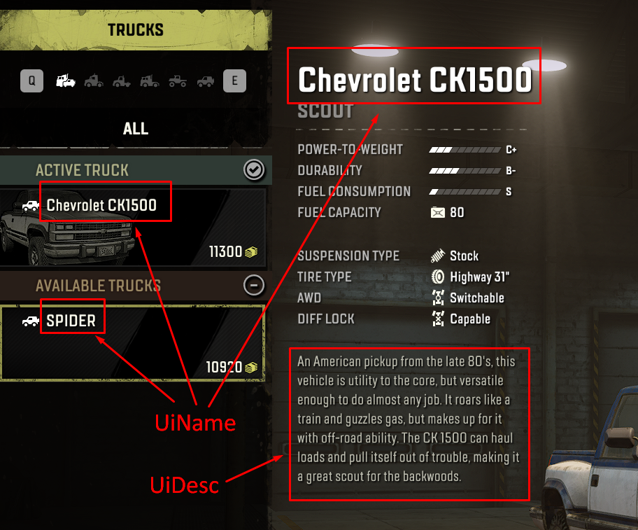 There are two ways to set them.
Simple way
If you want to keep it simple, you can just specify your text as a value of the appropriate XML attribute.
For example, you can specify the name and description of your truck in the UiName and UiDesc attributes of the <UiDesc> tag, in double quotes: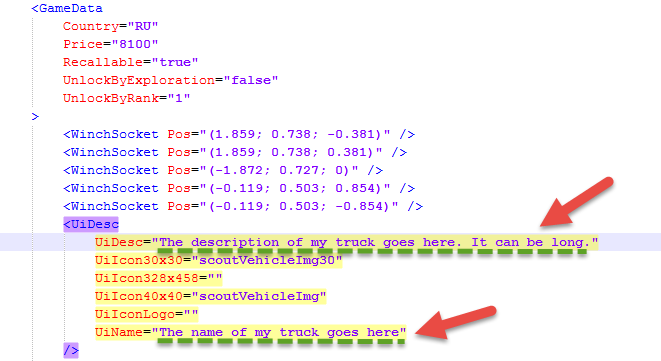 (For details on XML structure and tags used, please refer to parts #2 and #3 of the main guide).
However, if you specify the UiName and UiDesc attributes this way, you will not be able to localize them. In all languages they will appear just as you specified them.
"Localizable" way
If you want your text fields to support different languages, you need a little bit more effort.
In general, the process is the following:
Instead of specifying text in your UiName and UiDesc attributes, you specify UI placeholders there.
These UI placeholders will be the identifiers of your localization strings.
For example, if you can specify UI_MY_TRUCK_NAME and UI_MY_TRUCK_DESC as these identifiers:


		<UiDesc
			UiDesc="UI_MY_TRUCK_DESC"
			UiIcon30x30="scoutVehicleImg30"
			UiIcon328x458=""
			UiIcon40x40="scoutVehicleImg"
			UiIconLogo=""
			UiName="UI_MY_TRUCK_NAME"
		/>


You create the folder named "texts" inside the folder of your mod (named "spider" in the screenshot below):

In the texts folder, you need to create .str files corresponding to languages that you want to support. You can create them simply as empty .txt files, and then change their filename extension to .str. These files should match the list of languages supported by the game and should be named as specified below:

strings_brazilian_portuguese.str
strings_chinese_simplified.str
strings_chinese_traditional.str
strings_czech.str
strings_english.str
strings_french.str
strings_german.str
strings_italian.str
strings_japanese.str
strings_korean.str
strings_polish.str
strings_russian.str
strings_spanish.str

In these .str files, you need to specify localization strings corresponding to your identifiers from step #1 above. You should do it in the same format, as in the original game: with the value next to the identifier, the value in quotation marks, and a new line as a delimiter.
For example:

Or:


UI_MY_TRUCK_DESC		"The best vehicle ever made!"
UI_MY_TRUCK_NAME		"Tin Lizzie"

WARNING #1: If you have not created a .str file for some language, the localization identifier will be displayed for this language (e.g. you will see "UI_MY_TRUCK_NAME" in the UI).

WARNING #2: If you have not specified a value for your identifier (e.g. you specified "" as the value) for some language, the name of the localization identifier itself will be displayed for this language (e.g. you will see "UI_MY_TRUCK_NAME" in the UI).

NOTE: The number of spaces between the identifier and the value may vary. There may be single or multiple spaces there.

In the game, values from .str files will be used instead of UI_identifiers.